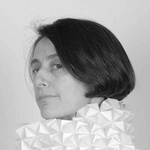 Zoe Keramea
Bio
Zoe Keramea explores enfolded surfaces
using sculpture, printmaking, drawing and ceramics.
She was born in Athens in 1955 and received a Meisterschülerin degree from the Universität der Künste Berlin in 1981.
She was awarded a Fulbright Grant in 1989 to work on her printmaking project "Two Stage Intaglio Matrix Prints - Zoetypes" in New York.
She lives and works in Athens and New York.