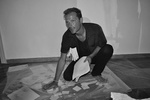 Vasilis Kavouridis
Statement
Ο Βασίλης Καβουριδης ατενίζει τον κόσμο με τα μάτια του Καστωρα, αντιλαμβάνεται τις δομές κι αναπαράγει σαν μια αράχνη κατασκευές που συνεχίζουν την δομή του κόσμου. Στο τέλος δεν παραμένει παρά το φως και οι διαθλάσεις του, τα αόρατα νήματα που συγκρατούν το σύμπαν.
ΛΒ
Bio
Vassilis Kavouridis was born in Athens, Greece in 1976.
He has studied Engineering and Cooking and he has worked as a chef in several hotels and restaurants all over Greece.He graduated from the Florina | Greece School of Fine Arts under Harris Kondosphyris.
Currently he lives and works in Mykonos.
Ο Βασίλης Καβουρίδης σπούδασε ζωγραφική στο τμήμα εικαστικών και εφαρμοσμένων τεχνών του Πανεπιστημίου Δυτικής Μακεδονίας στη Φλώρινα. Έχει παρουσιάσει τη δουλειά του σε 3 ατομικές εκθέσεις ενώ έχει συμμετάσχει σε ομαδικές στη Θεσσαλονίκη, την Αθήνα, τη Μύκονο και το Μαϊάμι (Η.Π.Α.) Έργα του βρίσκονται σε ιδιωτικές συλλογές στην Ελλάδα και το εξωτερικό.