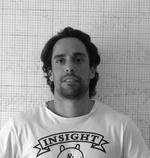 Panos Famelis
Bio
Panos Famelis was born in Athens in 1979, where he lives and works.
 He graduated with honors degree (BA) from the school of fine arts of the Aristotle University of Thessaloniki, Faculty of Fine Arts (2005) and continued his studies (MA) at the school of fine arts in Athens. He has been awarded by the Bank of Greece (2008) and the Greek State Scholarship Foundation IKY for excellent performance of studies (2000, 2002, 2005). He has also been awarded by the Macedonian Museum of Contemporary Art of Thessaloniki in "Graduates Exhibition (2003 – 2005).
 The artist's main media is painting and sculpture, but he is also occupied with drawings installations, performances, theater and curatorials ("Grounded" Re- Culture, Patra 2013 / "Coney Island", Athens 2012 / "Art is Hard" Festival, Athens / "Oasis", Skironion Museum 2010 / "Black Jack" Rhodes Casino 2010 ). 
 Panos Famelis has had three solo exhibitions (2013 "The Wave" Ileana Tounta Contemporary Art Center / 2011 / "Existence", Fizz gallery, Athens, 2009 / "Chaos Project", Zina Athannasiadou gallery, Thessaloniki, 2007) and has participated in several group exhibitions in Greece and abroad. 
 He was the founding member of Under Construction group.
2015 MANILA/PDF,MPEG