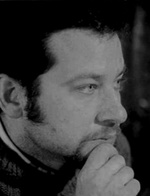 Nikos Charalampidis
Bio
He was born in Limassol, Cyprus in 1967. He studied painting at the Accademia di Belle Arti in Florence (1987-1991), architecture at the University of Florence (1988-1993), painting and sculpture at the Athens School of Fine Arts (1994-1997), where he also attended a postgraduate programme in digital arts (1997-2000).
His artistic expression is intensely political since the beginning of his career, initially with references to the recent history of Cyprus, part of which he experienced himself during his childhood. Ever since, his art has been concentrating on themes associated with contemporary politics and social conditions, globalization, consumerism, ideological and cultural crises, attributing to them complex implications open to a multitude of interpretations. Site-specific interventions dominate the largest part of his work, including installations and constructions of miscellaneous materials, performances, videos and other digital applications. His personal style is particularly manifold, due to the variety and creative use of his technical and visual media. At the same time, the thematic content, mental process and subversive vein of his works are very effective communication-wise, raising public awareness.
He has exhibited his work worldwide in at least 50 solo exhibitions in Greece and abroad (Centre Pompidou, Paris, Turner Contemporary, London, etc.), and has participated in numerous group shows, among which are several Biennales (Ostende 1994; Venice 1997, 2003; Tirana 2001; Tel Aviv 2004; Ireland 2005; Sao Paulo 2006, etc.). He has also been cooperated with many universities of other countries on research projects. He lives and works in Athens.
2021 Ideas and Idols