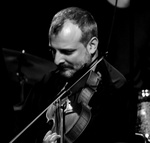 Michalis Katachanas
Bio
Michalis Katachanas was born in Greece in 1979. He is a violist improviser supporting different musical genres - Jazz, Contemporary, Traditional Greek , Classical - composer and educator. At the age of eight he took his first classical violin lessons from Kostas Kavakos. He graduated from the Experimental Music Highschool of Pallini. He holds a Bachelor degree in Music from the Ionian University (GR) under the supervision of Dimos Dimitriadis and a Masters degree in Contemporary Improvisation from the New England Conservatory in Boston (USA), after receiving a scholarship from the Fulbright Foundation. He has been a student of Charlie Banakos and Ran Blake. ​​
As a professional musician, he has collaborated with various composers and musicians, among others, Jackie Leven, Antony Coleman, Joe Morris, Nikos Xydakis, Nikos Papdogiorgos, Theodor Mirisclavos, Mimis Plessas and as a composer, he has created Michalis Katachanas Quartet which is inspired by the sound of modern European jazz in combination with the Mediterranean and Balkans music . He also composes and plays music for the theater. He has participated in numerous concerts and festivals and presented his work in diverse venues worldwide. He has recorded two personal albums: Murderess and The Third Duty and participated as a sideman in many recordings in Greece and abroad. ​
Since 2014, he has been a faculty teacher at the Jazz Department of the Athens Conservatoire. He has also worked as a music teacher in public elementary schools in Athens, shaping his own pedagogical method of conducting a modern children's chorus and improvising by producing on the spot impressive soundscapes, using sounds from nature and everyday life. Since October 2018, he has been collaborating with Stavros Niarchos Foundation Cultural Center and the Greek National Opera, in the context of the Stavros Niarchos Park public educational programs.
2021 Performance
The art of non-doing: the deep blue is a she