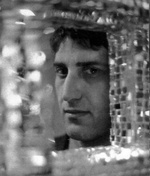 Medri Davide
Bio
Davide Medri was born in Cesena on 7 August 1967 and graduated from theRavenna Fine Arts Academy, the Mosaic Art Institute and the Albestainer Mosaic Professional School.
After various artistic experiences, in 1997, following his meeting with Dilmos, mirror mosaics saw the light.
Since 10 years from the date of first creation, the glass mosaic mirrors are still the elements of design furnishings that highly characterise DAVIDEMEDRI creations. These are the art works that have determined the success both in terms of market success, press appraisal and recognition by architects and interior designers in Italy and abroad.
Today's portfolio also includes, besides glass mosaic mirrors, tables, side tables, floor lamps, wall lamps, art works and design furniture made in iron, stainless steel and in glass mosaics.
Craftsmanship is totally artisanal where each single glass piece iscut and fixed by hand assuring high quality and that every art work and design element is unique.