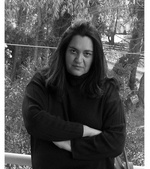 Maria Papadimitriou
Bio
Maria Papadimitriou is a Greek contemporary visual artist. After graduating with an honors degree in painting from the École Nationale Supérieure des Beaux-Arts (ENSBA), Paris, Papadimitriou began practicing as a visual artist in 1989. She realizes her artworks through sculpture, installation, public art, video, and photography.
As an artist she is renowned for her ability to investigate collaborative projects and collective activities that highlight the interconnection between art and social reality. She teaches at the Department of Architecture, University of Thessaly, and is the founder of T.A.M.A. (Temporary Autonomous Museum for All, est. 1998) and SOUZY TROS Art Canteen. Since 2017 she is the co-leader artist at Victoria Square Project in collaboration with the American artist Rick Lowe.
In 2003 she won the DESTE prize for contemporary Greek art and in 2016 she was awarded with the rank of "Officier dans l'Ordre des Palmes Academiques" by the French government. Papadimitriou's work has been shown internationally in private and public institutions, including Mario Merz foundation, Torino (2019); Museum of Cycladic Art, ATHENS (2017); ONASSIS FOUNDATION, NEW YORK (2016); 56th Venice Biennial, Italy (2015); DESTE Foundation, Greece (2014); Museum of Contemporary Art, Marseille, France (2012); Louisiana Museum of Modern Art, Denmark (2011); Royal Academy of Arts, London (2010-11); The Haifa Mediterranean Biennale, Israel (2010); 10th Lyon Biennial, France (2009); Kunsthaus Graz, Austria (2009); 7th Gwangju Biennale, South Korea (2007); 1st Thessaloniki Biennale of Contemporary Art (2007); 1st Bienal de Arquitectura Arte Paisaje de Canarias (2006-7); Pavilion of Contemporary Art, Milan (2006); Bâtiment d'Art Contemporain, Geneva (2007); EPO Munich (2006); MM Projects Rincon, Puerto Rico (2004); Olivetti Foundation, Rome (2004); Museo Reina Sofia, Madrid (2004); Manifesta04, Frankfurt (2003); 25th Sao Paulo Biennial (2002).
2015 Treasure Hunt