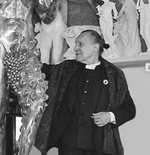 Luigi Ontani
Bio
He was born in Montovolo, a district of Vergato, on 24 November 1943, during the Second World War.
He did his military service in Turin in 1963/64, giving him an opportunity to explore the city's museums and avant-garde contemporary art galleries, and allowing him to make his first contacts among gallery owners and emerging artists. His interest in literature also grew during this time, turning particularly towards relatively contemporary writers such as Apollinaire and Pirandello. Such authors nourished his sense of the exotic, adventure and transgression, aspects that not only held interest but fitted seamlessly into his artistic vision. Ontani's early works are heterogeneous, with his figurative creations showing a merger of symbolic hints and expressionism.
In 1965, when he returned to Vergato, he continued his self-taught style of painting, playing around with different techniques and taking an open life drawing class at the Bologna Academy of Fine Arts. This was the period in his career when he created the "Oggetti Pleonastici" (literally, Pleonastic Objects), which are superfluous, useless objects the artist used as talismans because they were so well suited to being worn and arranged on the artist's body and on trees, both inside and outside. In practice, these were scagliola plaster moulds of everyday items that used bright and alluring colours to evoke a sense of childhood. He had his first exhibitions in Bologna.
His 1968 work "Ange Infidele" marked Ontani's first step into photography. Right from the beginning, though, his photography had some defining features: the subject is always the artist, who uses his body and face to personify historical, mythological, literary and folk themes; his favoured formats are miniatures or blow-up posters, with each work seen as unique. Around the same time, Ontani began to dabble with his first tableaux vivants, that is, scenes in which actors in costume remain still and silent, imitating a picture. n such works, the artist is always masked, but never fully loses his identity. Ontani becomes both the creator and actor in his works, turning himself into an objet d'art.
In 1970, he moved to Rome. Here, Ontani continued to expand his horizons and explore new expressive forms, driven by the lively Roman scene, and early performance and conceptual art. His "d'aprés" not only refer to world famous painters like Guercino, Caravaggio and Reni, but also depict the literary world in which the artist himself is the author and the lead actor. "I am Pinocchio, I am Raphael, I am Leonardo da Vinci; I am the She-wolf, and I am Rome; but I am always and anyway Luigi Ontani."
In 1974, he received his first major international accolades and, in 1977, he exhibited his works for the first time in New York in the famed Sonnabend gallery. He would become an increasingly regular exhibitor in America. He was invited to the Venice Biennale on numerous occasions and he has had many exhibitions in Europe, including in Antwerp, Brussels, Belgrade, Zurich, Paris, London, and Munich.
The Orient and the exotic had always had a strong pull on the artist and in late 1974 he embarked on his first trip to India, developing contacts with photographers in various parts of the nation and creating a cycle of images. This marked his first venture into sepia watercolour using harmonic colour ranges. He travelled as far as Indonesia seeking new ideas, new subjects, and new materials. The island of Bali caught his imagination, and it was here he made his first masks – an element that would become one of his favoured themes.
As the 1980s progressed, his work became increasingly suffused with surreal, dreamlike inspirations combined with craft skill. Ontani produced a series of paintings depicting slender figures of clear mythological inspiration, but also created papier-mâché items and pieces in wood, china and blown glass. He travelled far and wide exploring traditional craft techniques for many different materials. He also made busts, amulets and whimsical furnishings that combined to produce ever more evocative, but identifiable arrangements with an imaginary "House of the Ontani"
In 1984, he exhibited at the Venice Biennale, in the Wunderkammer section, and returned again in 1995, having been invited by Gabriella Belli as part of the centenary celebrations. This time he had a personal room in the Italy Pavilion, allowing him to exhibit the four ErmEstetiche for the first time.
Between 1969 and 1989, the artist created roughly 30 tableaux vivants, thus a forbearer to the so-called multimedia installations that would become so popular from the 1990s and that use a variety of technologies. He adopted the same approach to creating papier-mâché, glass, wood (including plenty of masks in Pule wood in Bali), bronze, marble and fabric works. Ceramics is another area in which he has produced a significant amount of work, particularly because of his close relationship with Bottega Gatti in Faenza.
During the 1990s, Ontani travelled widely in the west and the east, becoming one of the leading Italian artists on the world stage. In 1998, he created the stained-glass windows for the Vergato town hall, focusing on the ages of man, the seasons, and the elements.
A lover of experimentation and anti-conformist, Ontani merges irony and narcissism in a meeting of the sacred and the profane, myths and fables, eastern and western culture. He has used a remarkably heterogeneous array of expressive techniques to produce revolutionary, avant-garde art. He always conceives the works, but often turns to experts in different sectors for their actual creation On all such occasions, his use of techniques is not a goal in and of itself, but an opportunity to experiment with new possibilities and find new variations on the themes and subjects of the greatest interest to him, especially his journey through myths, masks, symbols and iconographic representation.
He experiences his own being precisely like the concept of "home". Belonging to a place is fundamental, but it is a concept to be betrayed as the artist's desire is "elsewhere". As such, his own identity constantly mutates through different times and places, living in his travels. At the same time, he finds roots in the specific locations in which he exhibits his works from time to time. Ontani's philosophy about art is quite complex, seeing it as distraction and fun, not duty. Art is an exit from everyday life. The concept of decoration is the same as the concept of language because an awareness of being able to take elements with different roots turns them into hybrids.
He has exhibited in leading museums and galleries around the world, from the Guggenheim to Centre Pompidou, from Frankfurt Kunstverein to Reina Sofía He has participated in an impressive number of biennials, from Venice to Sydney and Lyon. He has also produced many books and monographs.