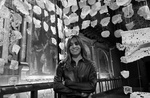 Loreto Buttazzoni
Bio
Represented by the Chilean gallery Isabel Aninat, the visual artist Loreto Buttazzoni arrives in Lima to present her latest project in the Peruvian gallery Cecilia González Contemporary Art, in a show entitled "Sum and Follow".
Loreto Buttazzoni studied visual arts at Palazzo Spinelli in Florence, Italy and at Harvard University in the United States (2003). She has participated in the fairs Art Santiago 2014 (Chile), C.h.a.c.o. 2014 (Chile) and ArtBO 2014 (Colombia) and her works are in private collections in Austria, Chile, Colombia, Ecuador and the United States.
In 2011, her work was chosen for the Chilean section of the International Association of Art Critics (AICA), obtaining the best criticism: "In this third version of the sample selected by AICA, the artist Loreto Buttazzoni stands out with her delicate and colorful mural" Bird of the same type is in the same forest ", a kind of secret garden." (Diario El Mercurio, Tuesday, November 29, 2011)
With a selection of works done in pop up, pointillism and porcelain, all techniques that involve a slow, manual and thorough process, "Sum and Follow" is presented as a continuous juxtaposition of actions, sequences and hazards, highlighting the ephemeral and fragile of existence, but at the same time its perpetual and inexorable continuity.
From the point of view of the technique, the works have been carried out by means of micro-points on silhouettes and pop-up cuts, that technique by which a volume is created by means of folds.
The result of these processes is the first formation of color, which becomes an image, which in turn constitutes a part within a larger sequence. It is tried with this, to homologize the time that nature takes to shape living beings that in turn will be transformed into constant interaction with others while they will be destroyed.