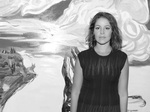 Lola Montes Schnabel
Bio
Lola Montes Schnabel (b. 1981) is a contemporary artist and filmmaker who makes watercolors & oil paintings. Born in New York City, Schnabel moved three years ago to Sicily, Italy, where her home studio includes a kiln and a laboratory enabling her to collaborate with local artisans and explore ancient techniques. Lola discovered solitude and creative inspiration in the natural environment of a small town on the largest Mediterranean island. She began painting on tiles which are made with clay and volcanic ash from Mount Etna that transforms when it fires, giving the surface a magical quality.
All of Schnabel's work is a form of storytelling, as she strives to reveal what is beyond the surface. Schnabel has been painting portraits since she was a girl, describing it as an intimate process where she becomes as much the subject as those who sit for her. Many of her portraits are of close friends and family. During quarantine, she sought out individuals in everyday life who compel her to portray their inner narrative, such as the shepherd, the butcher's wife, and her dog. Borrowing deeply from art history and her previous global travels, Schnabel's watercolors depict a wide range of subjects and topics. She was recently inspired by large tomatoes on a billboard, and found in this sign a direction toward abstraction and figurative . Her style is fluid, and her watercolors evoke femininity, spirituality, and a lyrical quality.
Her work has been exhibited since 2001, seven years before she earned a BFA from the Cooper Union School for the Advancement of Science and Art in New York. Her work has been on view in exhibitions and art fairs in the United States, Switzerland, Italy, Greece, the Netherlands, and Saint Barthélemy, with shows in Zurich and Monaco this year. Schnabel has directed and edited at least 14 short films and music videos . She has participated in a variety of cross-disciplinary projects, working in sound design, radio, and with fashion houses. Schnabel serves on the board of advisors for Anthology Film Archives in New York.
2021 Lavara of the Revolution