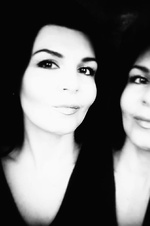 Ioanna Vlachou
Bio
Γεννημένη στη Θεσσαλονίκη το 1976.
Τελειώνει τις σχολές της Συντήρησης έργων Τέχνης, Αγιογραφίας και Εγκαυστικής και το 2002 εισάγεται και στις δύο Σχολές Καλών Τεχνών, Αθηνών και Θεσσαλονίκης, επιλέγοντας το εργαστήριο του Τ. Πατρασκίδη στην Αθήνα από όπου αποφοίτησε με αριστείο το 2008.
Παράλληλα με τις σπουδές της, εργάζεται από το 1995 στο Υπουργείο Πολιτισμού και από το 2014 κατέχει τη θέση του Μουσειακού Ζωγράφου στο Μουσείο Νεότερου Ελληνικού Πολιτισμού.
Συμμετέχει σε ομαδικές εκθέσεις, εικαστική επιμέλεια performances, κατασκευή σκηνικών και θεατρικών κοστουμιών, αναλαμβάνοντας παράλληλα, μεταξύ άλλων, στήσιμο εκθέσεων, ζωγραφικά έργα, επιζωγραφίσεις, αρχιτεκτονικά σχέδια, αναπαραστάσεις και εικαστικά εκπαιδευτικά προγράμματα σε μουσεία και εφορείες αρχαιοτήτων.
Born in Thessaloniki in 1976.
Completes her studies at the faculties of Artworks' preservation, Hagiography and Encaustic. in a row. In 2002 she is admitted in both university schools of fine arts in Athens and in Thessaloniki, selecting the T. Patraskidis' laboratory in Athens, from where she graduates with excellence in 2008.
Along with her studies, she has been employed since 1995 at the Ministry of Culture. From 2014 and on, she holds the position of the museum artist at the Museum of modern Greek culture.
She participates in group exhibitions, artistic diligence of performances, scenery and theatrical costume constructions, taking over simultaneously, among others, exhibition projects, paintings, architectural drawings, representations and artistic educational programs in museums and departments of antiquities.