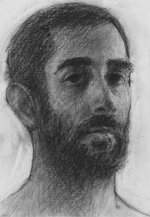 Giannis Selimiotis
Bio
Απόφοιτος του τμήματος Εικαστικών και Εφαρμοσμένων Τεχνών του Πανεπιστημίου Δυτικής Μακεδονίας (2009-2014) και με σπουδές στο τμήμα Φυσικής του Εθνικού Καποδιστριακού Πανεπιστημίου Αθηνών. Μαθήτευσε στο εργαστήριο αγιογραφίας του Δημοσθένη Αβραμίδη και ήταν μέλος της Ομάδας τέχνης "ΣΗΜΕΙΟ" με δασκάλους τον Γιώργο Ρόρρη και την Κάλλια Τριανταφύλλου.
Ήταν συνεργάτης στην Αθήνα και στην Βενετία της ομάδας της πρότασης «Made in Athens», που εκπροσώπησε την Ελλάδα στην 13η Biennale της Βενετίας.
Ενδεικτικά έχει συμμετάσχει σε ομαδικές εκθέσεις : στην Αιανή, Κοζάνης 2011, στη Μυτιλήνη 2013, στη Σέριφο, στο δημοτικό Ξενώνα «Περσέας» 2015, στην Αθήνα στην έκθεση της Ένωσης Ελλήνων Αρχαιολόγων 2015, στη Σέριφο, στο δημοτικό Ξενώνα «Περσέας»2016, στο Λαύριο, στο δημοτικό χώρο του Παλιού Χυτηρίου 2016, στην Αθήνα, γκαλερί Alibi 2018, στην Δημοκρατία της Βόρειας Μακεδονίας στα Μπίτολα και στα Σκόπια 2021.
Yiannis Selimiotis is a Greek contemporary representational painter who began his studies at the University of Western Macedonia in 2009.
Since 2014 he works as a freelance artist.
In 2019, he began an apprenticeship at atelier "Σημείο" under the instruction of Giorgos Rorris and Kallia Triandafillou.