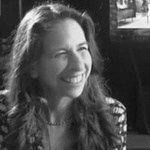 Debby Lee Cohen
Bio
Debby Lee Cohen is a collaborative visual artist, painter, animator, and scenic and giant puppet designer for theater, television, film, and parades. Recently, she decided to apply her design, production, and collaboration skills towards eliminating styrofoam from schools and achieving zero waste schools and communities (see her Kickstarter campaign video here).
Cohen is the director and founder of Cafeteria Culture (founded as Styrofoam Out of Schools, SOSnyc.org). She catalyzed the remarkable launch of TRAYLESS TUESDAYS (March 2010), throughout all of NYC's 1700 public schools within one year's time through an innovative partnership with NYC's Department of Education Office of School Food and Parsons the New School. Since then, an impressive 100 million styrene foam trays have been eliminated from production, school lunches, incinerators and landfills at no additional cost to the city (read more here).
Last year, as a result of the Cafcu team's persistence, cross sector coalition building, creative design-based strategies and innovation of cafeteria curriculum, NYC decided to completely eliminate the 860,000 styrene foam trays used per day in schools. This sparked the formation of the 6-city Urban School Food Alliance for the purpose of collectively purchasing compostable plates to drive down cost. In 2015, 2.9 MILLION styrene foam trays used per day across the country will be eliminated. Cohen also took the lead in frontline grassroots organizing to ensure the NY City Council's 2013 unanimous vote to ban styrene foam food containers citywide.
CafCu received the 2013 US Environmental Protection Agency Environmental Quality Award and Cohen received the 2010 Eco-Hero award from the United Federation of Teachers Green Schools Committee for catalyzing Trayless Tuesdays.
Cohen art directed Meredith Monk's, Ascension Variations, a site specific performance for 120 performers at The Guggenheim Museum. She has designed scenery for Monk and other multi-media directors for over 25 years at BAM, Houston Grand Opera, and LaMama. For The Lincoln Center Festival's production of Shadow's Child, she designed the scenery and giant backpack puppets, collaborating with Urban Bush Women and The National Company of Song and Dance of Mozambique.
HBO Family credits include set designer and story advisor for the, Emmy and Peabody Award winning animated special, Classical Baby; segment producer on Twas the Night, and story advisor on HBO/Rosie O'Donnell's A Family is a Family is a Family. Her animation has been shown on PBS, Showtime/The Movie Channel, and MTV (see her animation here).
In Paris, Jardin des Tuileries, she designed a food themed children's parade with giant puppets, collaborating with 500 mostly immigrant children professional choreographers, design students, and community volunteers. For eight years, she designed the giant puppets for New York's Halloween Parade, primarily focusing on environmental themes and organizing hundred of volunteers.
She has designed sculptural promotional costumes for Ben & Jerry's Ice Cream and Nantucket Nectars, as well as​ award winning packaging for salad dressings and sauces.Grants include: The New York Foundation for the Arts, The National Endowment for the Arts, and The Jim Henson Foundation.
At Parsons the New School for Design, she taught 3D Design and LAB (design practice through research and community involvement). She has also taught art to children, teens at risk, inmates, and senior and interdisciplinary arts and environmental residencies through Cafeteria Culture and The Touchstone Center.
2017 Treasure Hunt