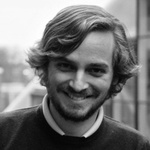 Constantinos Bouras
Statement
Artist's note
Through their reflections, the mirrors seem to get absorbed by the landscape, erasing the boundaries between the sand, the sea and the sky. Their reflections produce interchangeable views of the surroundings, offering different images every time ‐ creating an illusion between the real and the reflected, and a delusion of transparency.
The installation aspires to trigger a series of counterpoints through the combined narrative of the myths of Minotaur and Narcissus, both ever‐fascinating, rather than repulsive. The mirrors create a labyrinth, and at the same time they constitute the interface for self admiration. This narcissistic labyrinth is a non‐defined space, without inside and out, without edges. The mirrors absorb and reflect the light and they transform it into space. The reflected light fills up the space, in the same way darkness filled up the mythological labyrinth. Unlike the one‐ character Narcissus myth, this installation involves multiple users. The confines are blurred and, without Ariadne's thread, the meandering becomes experiential. People can get lost in the undefined boundary/space, but at the same time discover themselves in the narcissism of their own reflections. The elimination of the visual boundaries extends to the elimination of the boundaries between oneself and the environment. Reflection raises the fundamental issue of identity. The labyrinth raises the issue of the search. The psychological need for the speculum caters to the search of identity. The juxtaposition of transparency and its antithetical reflectiveness are related to the lacanian psychology of the mirror, evoking ovidian metamorphoses. The boundaries between the real and the potential space are fuzzy, creating a sensation of the uncanny, both in its psychoanalytic definition by Freud and its spatial definition by Vidler.
Bio
Architect and urbanist, currently practicing in New York. He holds a degree in Architecture from the National Technical University of Athens, Greece and a Master of Architecture in Urban Design from the Harvard Graduate School of Design, where he studied as a scholar of the Hellenic State and the Onassis Foundation. He has worked in architectural firms in Athens, Milan and New York, as well as for the City of Athens. He was a Harvard fellow researcher for the Government of Mexico City. He has taught design studio at the University of Pennsylvania, School of Design.
2017 Mirror Mirror