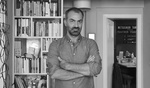 Christofilogiannis Dionysis
Bio
Currently, Dionisis Christofilogiannis is a Visual Arts instructor at the American College of Greece DEREE.
Dionisis' artistic approach deals with a dialogue between different types of art. His works dominate the architectural element and geometrical forms where simplicity, purity, and abstraction come together with beautification and lyricism. He comments on the contemporary social, economic and political disorder where the right to housing, a fundamental human right, is placed under constant questioning.
He is a founder of Daily Lazy Projects (2012-13) and artist/coordinator of the White House Biennial (2013-15). Space52 founded by the artist Dionisis Christofilogiannis in 2017 and supports Athens based artists and continuously seeks collaborations with art spaces and professionals from abroad. Our community and network grow by facilitating collaborations, exchanges, and research-based project. Space52 serves as a hub for local and international creatives, intellectuals and theoreticians.
Solo shows have been exhibited at the Muzeul de Artă Cluj-Napoca; Nakagawa Gallery, Tokyo, Strict Freedom Ύλη[matter]HYLE, HOME(less) Felios Collection. Recent group exhibitions have included BIENNALE 6, Thessaloniki, "[OUT]TOPIAS", Benaki Museum, Athens, Tirana Open 1, curated by Elian Stefa, Tirana, The Kennedy Bunker in Berlin, curated by Nicos Charalambidis, Uber-Bodies at Hydra School Projects, curated by Dimitrios Antonitsis, The Red and White flag Project parallel on Biennale 4, Thessaloniki, SelfConcious curated by Sotirios Bahtsetzis, Civilisation (genres and cases curated by Alexios Papazacharias, Lustlands, Vol.II – On The Great Eastern (after Andreas Embiricos curated by Nadja Argyropoulou and Lakis and Aris Ionas (The Callas) etc.
Has also co-curated several exhibitions, including the In the Studio at Kunsthalle Athens, I fought the X and the X won at the National Museum of Malta and Romania, The Cutting Edge in Romania, etc.
In addition to having exhibited widely in Greece and internationally, has also worked as a set designer in the Romania National Theaters of Timisoara, Cluj Napoca, Braila with Razvan Mazilu, and in the National Theater of Athens with Robert Wilson.