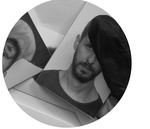 Alexandros Koxias
Statement
I find interest in experimenting with various visual media such as typography and photography. I always try to find opportunities to push my creative boundaries and broaden my horizons by attending creative workshops, seminars and also by taking on self-initiative projects.
I am drawn to environments where creative thinking and dynamic teamwork is valued.
Bio
A conceptual graphic designer with a strong artistic approach and a sharp eye for detail. Working seamlessly in both the analogue and digital space in order to explore and evolve contemporary visual communication. As an Art Director in Publicis Groupe Greece, I have successfully undertaken various projects for mega-brands including Samsung, Visa and Mercedes-Benz.