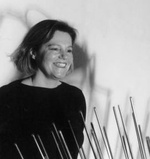 Afrodite Liti
Bio
Η Αφροδίτη Λίτη γεννήθηκε στην Αθήνα. Σπούδασε γλυπτική και ψηφιδωτό στην Ανωτάτη Σχολή Καλών Τεχνών Αθηνών (Α.Σ.Κ.Τ., 1972-1978), με καθηγητές τον Γ. Παππά και Γ. Κολέφα, και νωπογραφία με τον Κ. Ξυνόπουλο (1978-1980). Παρακολούθησε μαθήματα στο Università degli Studi του Μιλάνου το 1978, ενώ με υποτροφία του Ι.Κ.Υ πραγματοποίησε τις μεταπτυχιακές σπουδές της στο London University (1983-1986). Από το 1979 μέχρι και το 2000 εργάστηκε ως μουσειακός γλύπτης στο Εθνικό Αρχαιολογικό Μουσείο Αθηνών. Από το 2000 έως και σήμερα διδάσκει στον Τομέα Γλυπτικής στην Α.Σ.Κ.Τ. Αθηνών.
Aphrodite Liti was born and lives in Athens.
She studied sculpture (1973-1978), fresco (1976-1978) and the art of mosaics (1978-1980) at the Athens School of Fine Arts. Among her teachers were Yannis Pappas, Constantinos Xynopoulos and Yannis Kolefas. In 1977 she was awarded a scholarship by the Italian Government and attended lessons on Culture at the University of Milan.
In 1983 she was awarded another scholarship by the Greek institution of State Scholarships (IKY) and she accomplished her PH.D. (1983-1986) at the University of London.
She worked for the National Archaeological Museum of Athens, Greece (1978-2000) as a museum Sculptor. In 1985 she received the Award of Sculpture by the Hellenic House of Conjectural Arts.
She is a Professor of Sculpture at the Athens School of Fine Arts since 2000.
Here exhibition activities include the presentation of individual works of art in various art galleries and museums in Greece, Spain, Egypt, UK, Italy, Switzerland, USA, China, France, Turkey, Ukraine, and Belgium. Many of her various works of art can be also seen in public spaces and private collections.